Washington D.C.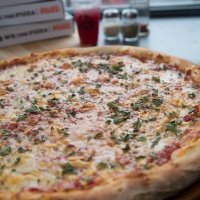 ARTISANAL FOUR CHEESE PIE
Our Tomato Sauce, Fontina, Smoked Gouda. Asiago, Parm
CAPITOL SUPREME
Our Tomato Sauce, Mozz, Pepperoni, Sausage, Green Peppers, Mushrooms, Onions
THE BUTCHER'S BLOCK
Our Tomato Sauce, Mozz, Pepperoni, Sausage, Ham, Applewood Smoked Bacon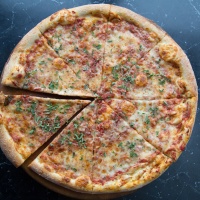 Simple Cheese Pie
Our Tomato Sauce, Mozz, Fresh Oregano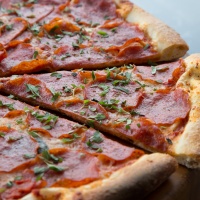 Pepperoni Pie
Our Tomato Sauce, Mozz, Lotsa Pepperoni, Fresh Oregano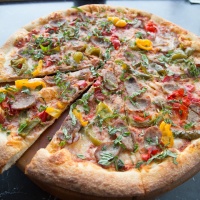 Sausage & Peppers Pie
Our Tomato Sauce, Mozz, Homemade Italian Sausage, Oven Roasted Peppers, Fennel Seeds, Fresh Basil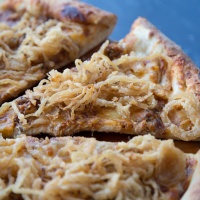 Colletti's Notorious BBQ Pie
Slow Roasted Pulled Pork with Colletti's Award Winning BBQ Sauce, Cheddar & Crispy Onions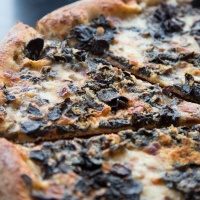 Forest Shroomin' Pie
Wild Forest Mushrooms, Truffles, Mozz, Fresh Thyme, Parmesan
White Pie
Today's Ricotta, Fontina, Parmesan, Mozz, Roasted Garlic, Sea Salt, Olive Oil, Fresh Italian Parsley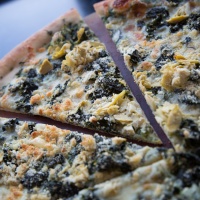 Spinach & Artichoke Pie
Bechamel, Sauteed Spinach and Roasted Chokes, Aged Provolone, Parmesan Cheese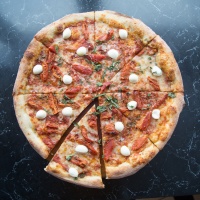 Fresh Buffalo Mozz & Roasted Tomato Pie
Fresh Mozz, Oven Roasted Tomatoes, Our Tomato Sauce, Fresh Basil, Extra Virgin Olive Oil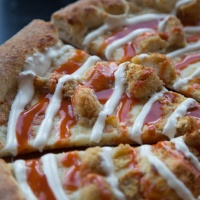 Buffalo Chicken Pie
Spicy Boneless Chicken Wings, Creamy Blue Cheese, Mozz, Miguel's Hot Sauce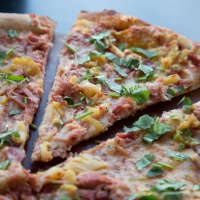 Honey Ham & Pineapple
MAUI, HI | Roasted Fresh Pineapple, Virginia Ham, Ginger, Honey, Lemongrass, Mozz, A Hint of Tomato Sauce
Cajun Chicken & Andouille
NEW ORLEANS, LA | Free Range Chicken, Chicken Andouille Sausage, Our Tomato Sauce, Caramelized Onions, Mozz & Cajun Seasonings
The Sicilian
Our Tomato Sauce, Roasted Tomatoes, Mozz, Fresh Basil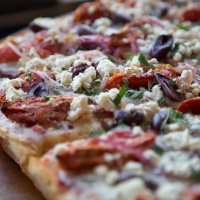 For the Greek in Us
Our Tomato Sauce, Feta Cheese, Mozz, Tomatoes, Red Onion, Fresh Oregano, Spike's Kefalonian Olive Oil & A Side of Kalamata Olives
Pizza Party 2 (serves 8-12)
- 3 Large Pies
- Two 2-Liter Sodas
w/ 25 wings: $87
w/salad: $103
w/ salad & wings: $125
$87
$103
$125
PIZZA PARTY 1 (serves 4-6)
- 2 Large Pies
- One 2-Liter Soda
w/ 13 wings: $55
w/salad: $65
w/ salad & wings: $77
$55
$65
$77
Pizza Party 3 (serves 25)
- 6 Large Pies
- Four 2-Liter Sodas
w/ 50 wings: $175
w/salad: $199
w/salad & wings: $243
$175
$199
$243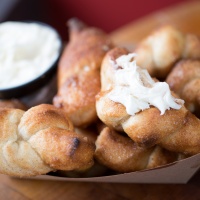 SWEET MEXICAN CINNAMON KNOTS
With Vanilla Bean Glaze Dip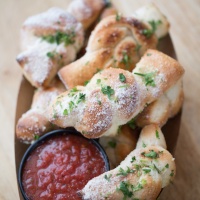 SAVORY ROASTED GARLIC KNOTS
With Homemade Marinara Sauce
We, Tossed Wings Top
OUR WINGS RULE THE ROOST | Kettle Sizzled Fresh Jumbo Wings Served with a Choice of Homemade Buttermilk Ranch or Blue Cheese Dip
6 Ct.
13 Ct.
25 Ct.
Sriracha Hot & Honey Sweet
TARPON SPRINGS STYLE GREEK SALAD
Seasonal Greens, Fresh Basil, Kalamata Olives, Green Peppers, Tomatoes, Cucumbers, Feta Cheese on a Bed of Potato Salad
$7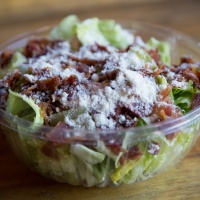 Caesar
Cold & Crispy Romaine Hearts, Homemade Applewood Bacon Bits, Shaved Parmesan, Caesar Vinaigrette & A Garlic Crostini
$7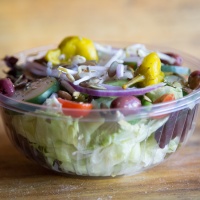 Farmers Market Salad
Local & Seasonal Greens & Veggies, Sea Salt & Freshly Ground Pepper & Fresh Herb Italian Dressing
$7
Side Salad
Caesar, Greek or Farmers Market
$4
Add Free Range Chicken Breast to Any Salad
$3.5
Lunch Specials Top
Monday-Friday, 11 am-4 pm
Pizza Pizza Fizz
Any 2 slices with a homemade soda
$10
Pizza Slice, Side Salad
Any homemade soda
$10
The Sodas Top
A Spritz of Homemade Tradition. Real Fruit. Real Bubbles.
Sassy Sassparilla - Fras Soda
$3
Don't Forget Your Ginger Roots Soda
$3
Heard It Through the Grape Soda
$3
I've Gotta Orange Crush On You
$3
Ubet Manhattan Egg Cream
$3
Very, Very, Sour-ry Cherry
$3
Dreams are Made of Strawberry Lemonade
$3
Catherine & Shirley's Temple
$3
The 32 Degree Draft Beers
20 oz.
$5
* Prices Are Subject To Change
All deliveries orders over $100 will automatically have a 12% gratuity added to the bill.